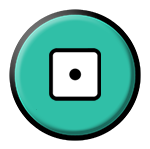 Lesson 1 – Teacher's Notes
Overview
In this 5-part lesson the student will learn three sounds, a kick, hi-hat, and rimshot and be able to combine them into an 8-Beat pattern. An 8-beat pattern is a beat pattern with 8 sounds in one bar or measure.
Lesson Objectives
At the end of the lesson the student will be able to:
(1) explain how plosive sounds are made and the term ejective
(2) make a kick drum sound based on a bilabial plosive ("b" sound)
(3) make a hi-hat sound based on a dental plosive ("t" sound)
(4) make a rimshot sound based on a velar plosive ("k" sounds)
(5) explain how beatboxers force a sound using the forced effector to create a short oscillation
(6) make an 8-beat pattern using three different sounds.